Explore the Watershed Field Trip
At first glance, "what happens upstream doesn't stay upstream", might seem like a simple concept to grasp. Where exactly is upstream? What is happening there? These are questions that many of us might not be able to answer so easily.
The Pensacola Bay Watershed spans approximately 18,130 km2 stretching from the Pensacola Bay all the way up into southern Alabama. The watershed is comprised of a variety of landscapes including wetlands, rivers, bayous, longleaf pine forests, urban cities, rural farmlands, and many more.
One of the watershed's most northern Florida cities is the Town of Century, which borders the Alabama-Florida state line and the Escambia River. The Town of Century is facing an ongoing sedimentation issue at the popular Fischers Landing Boat Ramp, located on the Escambia River. In 2021, PPBEP awarded the Town of Century a Community Grant for their Fischers Landing Master Plan Study. The consulting firm, WRA, was contracted to complete the proposed study that will provide a sedimentation report as well as educational signage for the property. Local artist and St. Paul Catholic School teacher, Julie Fink, is creating the visuals for the signs.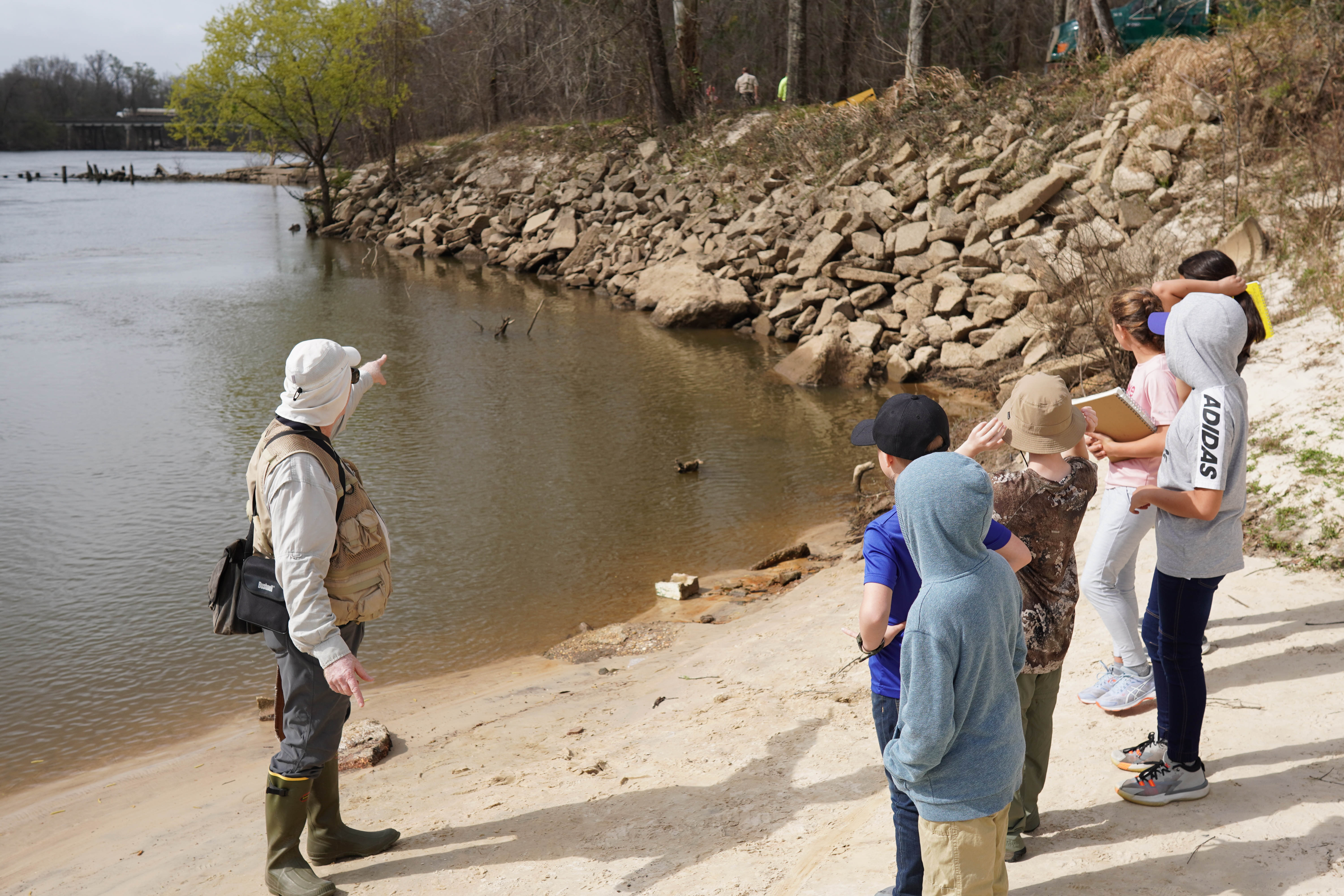 As a bonus to the contracted grant work, WRA recently offered a guided field trip to students from St. Paul Catholic School at Fischers Landing! WRA's Paul Looney led fourth and fifth graders from the Art Journaling class around the site to examine the river and its current, signs of sedimentation, site challenges, and plants and wildlife. Just a few weeks ago, the site was completely flooded from rain across the upper watershed and was inaccessible. Students were able to see the sedimentation issue firsthand as an excavator dug out the buried boat ramp. The most exciting discovery of the day? Adults and students alike were fascinated by critter bones found by our Community Outreach Assistant, Madi Ross.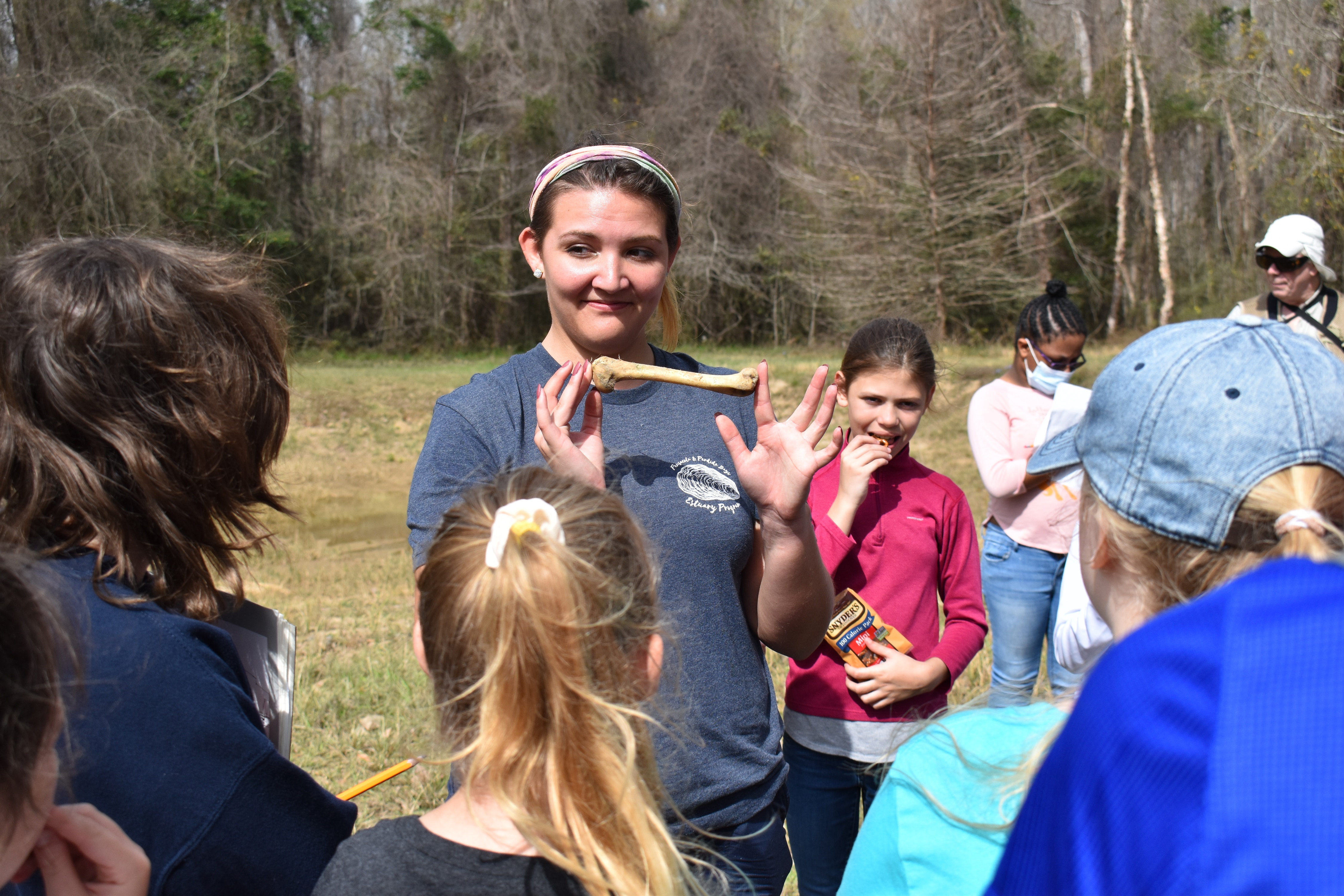 Photo by Samantha Rischardson.
The Escambia River empties into Escambia Bay and the water ultimately continues down into Pensacola Bay and the Gulf of Mexico through Pensacola Pass. The field trip followed the path of the Escambia River downstream to Pensacola Bay to highlight the interconnection between the upper and lower watershed, and how issues upstream so often continue downstream.
Snowy egrets, mallards, turtles, herons, and more awaited students at Admiral Mason Park where they enjoyed a picnic lunch and learned about stormwater treatment ponds from our Community Outreach Coordinator, Logan McDonald. The 2.35-acre pond at Admiral Mason Park serves as a stormwater treatment facility for the surrounding 31 acres, protecting Pensacola Bay from untreated stormwater runoff.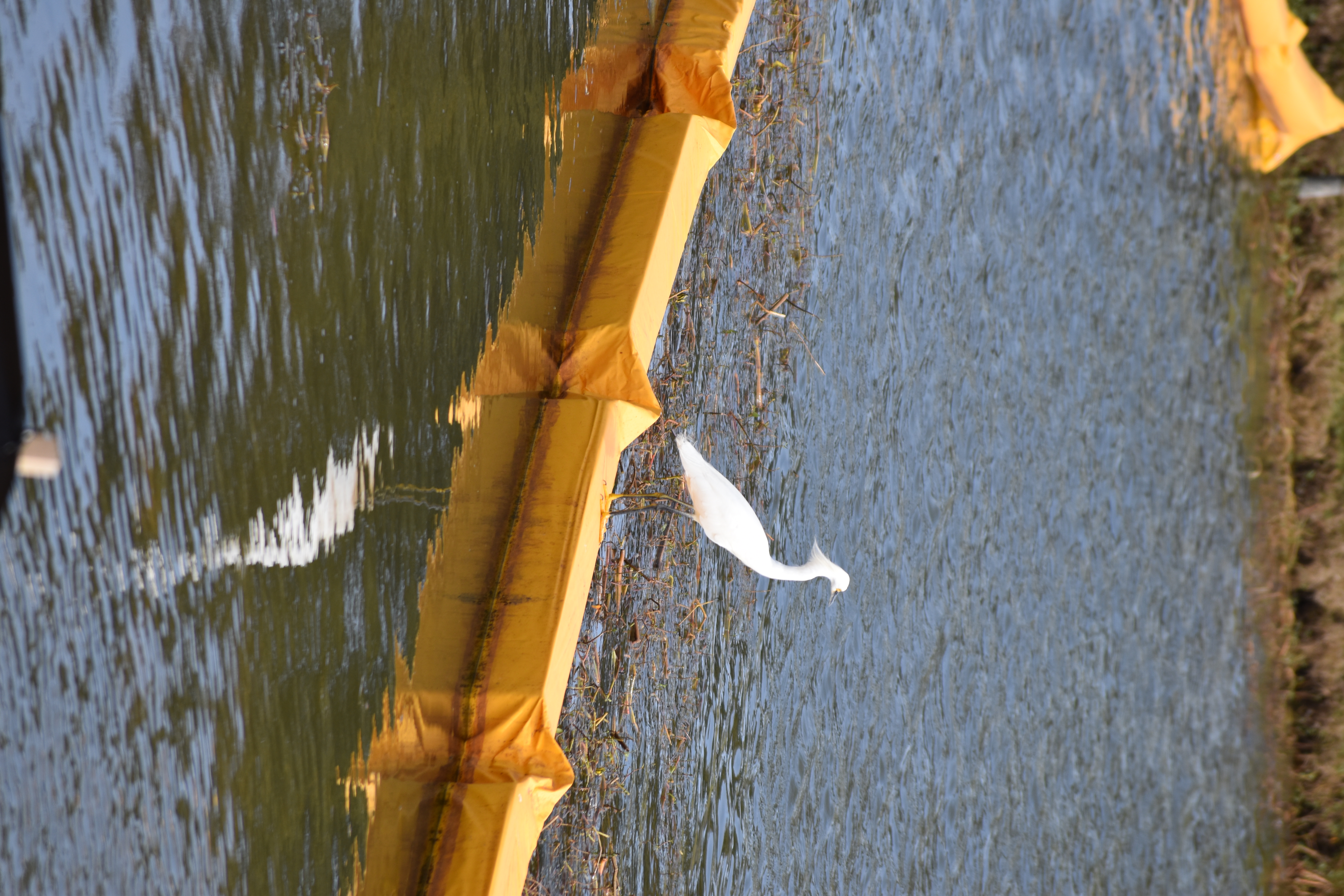 Photo by Samantha Rischardson.
Students were then welcomed by the Department of Environmental Protection's Beth Fugate for a first look at Project GreenShores Site 2 along Pensacola Bay. Constructed marsh mounds were dotted with approximately 150,000 freshly planted marsh grasses, including smooth cordgrass (Spartina alterniflora) and black needlerush (Juncus roemerianus). These marshes, along with protective breakwaters, will provide valuable wildlife habitat, serve as a protective buffer for our shorelines, and act as natural filters for our waters. Windy conditions demonstrated how marshes can buffer wave energy as students observed how calm the water was behind the protected Hawkshaw Lagoon compared to the open bay.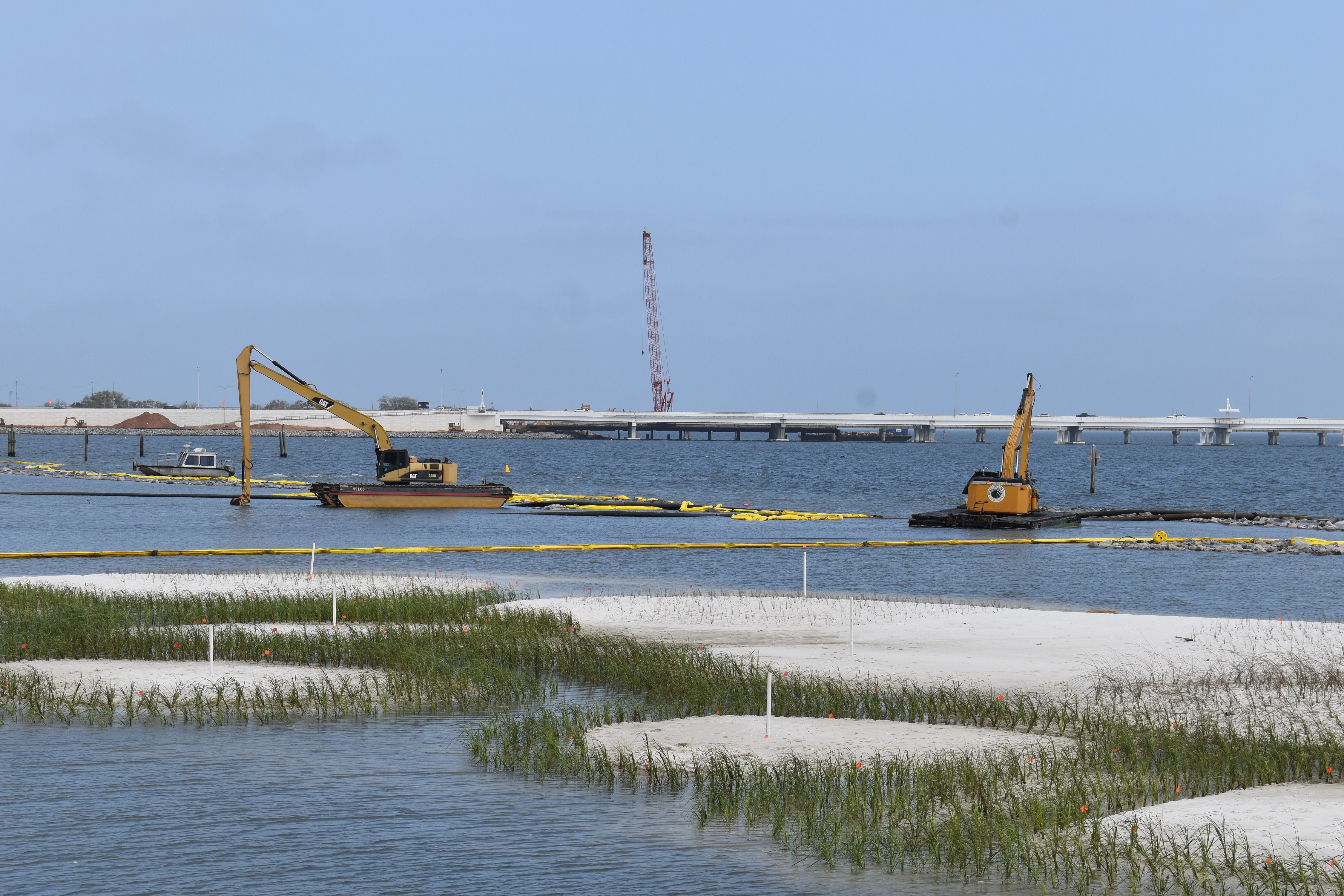 Photo by Samantha Rischardson.
"Crabs!" was shouted with excitement several times as students observed fiddler crabs scuttling along the shoreline below. Students looked on as construction crews were busy moving a dredge pipe to construct the final marsh mound for the project. As the construction of Project GreenShores Site 2 and our field trip came to an end, PPBEP staff were thrilled to learn that one of the parents (and school photographer) had participated in planting Project GreenShores Site 1 in 2004! A new site, a new generation. Just as our upper and lower watersheds are connected, so too are the future generations connected to the investments we make today for a brighter future for our waters.