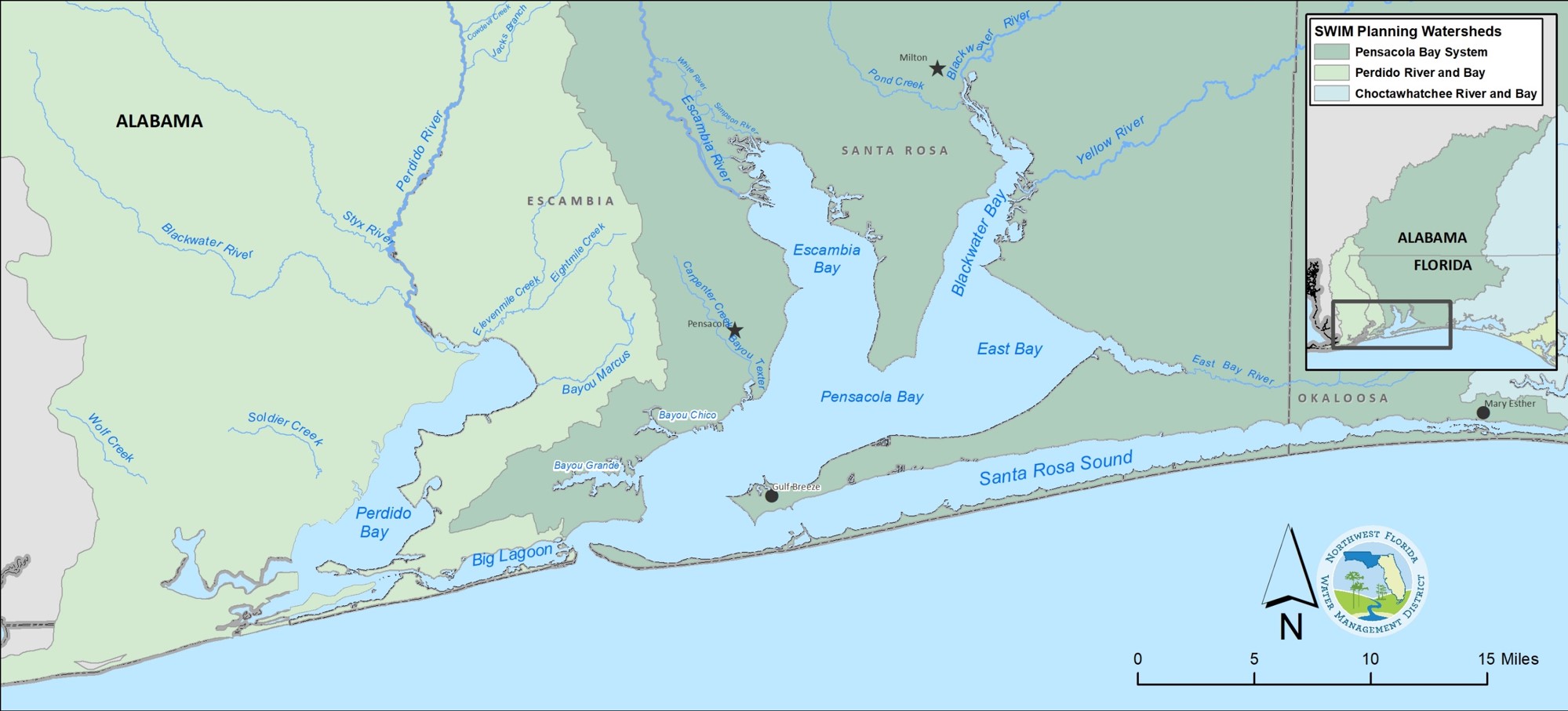 Watersheds are made up of several rivers, streams, bays, bayous, creeks, forests, and wetlands and are great sources of productivity that support a rich and diverse community of fish and wildlife. Ecologically diverse (variety of features and species), our watersheds include blackwater rivers, floodplain swamps, tidal marshes, seagrasses, and oyster beds. Unfortunately, these habitats have suffered declines in recent decades and need our help to bounce back and restore resilience. The water resources that comprise the Pensacola and Perdido Bay systems provide numerous functions that are critical to our quality of life. The watersheds' wetlands and floodplains store and regulate stormwater runoff, protecting water quality, protecting against floodwaters, and recharge aquifers and potable water supplies. The rivers, streams, and coastal waters sustain numerous species of fish, shellfish, and wildlife, and their wetlands and coastal barriers provide protection against storms and coastal change. Our community relies on these natural resources to sustain our economies and our quality of life.
Key Terms
Watershed - refers to the area of land that drains all streams and rainfall into a common outlet, such as a bay, bayou, or a larger body of water.
Estuary – Simply defined as "where the river meets the sea". In other words, an estuary is where freshwater meets saltwater.
Resilience – The capacity of an ecosystem to recover after a disturbance (e.g. hurricane, habitat loss/destruction, oil spill). Therefore, the quicker the recovery, the more resilient.
Diversity - the variety of life in a particular habitat or ecosystem (plants and animals).
Floodplain – an area of low-lying ground adjacent to a stream or river that is subject to flooding, which acts as a buffer between a river and an inhabited area.
Water table - The level below which the ground is saturated with water.
Aquifer - An underground layer of permeable (allowing liquids/gases to pass through) rock, sediment, or soil that yields water to wells or springs.